Waste Water Heat Recovery
for

Showers
Taylor Wimpey WWHRS Partnership with Recoup
Recoup is very happy to announce its Waste Water Heat Recovery for Showers (WWHRS) dual supply partnership with Taylor Wimpey, one of the biggest and most recognised housebuilders in the UK market.
Taylor Wimpey's chosen WWHRS includes the Recoup Pipe HEX, which will form part of their energy and carbon-reducing technologies package to meet new Part L 2021 building regulations. These new regulations fully transitioned on June 15th 2023, so now all new build homes require a 31% carbon reduction compared to the previous targets.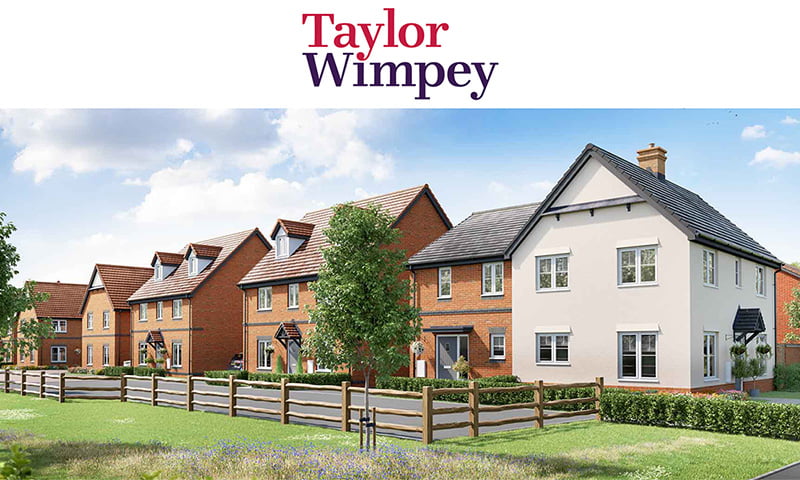 Waste Water Heat Recover for Showers (WWHRS) is on the notional dwelling for the New Part L regulations, the suggested method for compliance. Housebuilders, developers, and specifiers are looking for cost-effective routes to comply. WWHRS is a product that is simple to design in, simple for end-users to understand, and simple to integrate into existing installation and supply chains. Once in use, WWHRS continuously saves energy, money, and carbon for the user from their waste shower water; up to 55% of the energy use per shower!
Taylor Wimpey Homes of the Future
Taylor Wimpey is firmly focused on reducing carbon in their buildings. The 2021 Part L building regulation changes are just the start of this. The Future Homes Standard (FHS) and Net Zero carbon target for 2050 are firmly in their sights too.
Ahead of the implementation of the FHS in 2025, they are trialling five prototype homes at their Sudbury development in Suffolk. These trials will test a range of energy-efficient and low-carbon technologies, with the Recoup Pipe HEX WWHRS integrated as part of this trial too. Their aim is to find solutions that will enable Taylor Wimpey to build high-quality, zero carbon ready homes that are deliverable at scale.
For more information on Taylor Wimpey's future homes trial see the article on their website.

The Recoup Knowledge Base is our fully searchable library of information available 24 hours a day. Quickly find answers to common questions or deep-dive full in-depth technical articles, product information and design walk-thrus, as well as, key articles, industry news and a growing list of case studies.
Visit Recoup Knowledge Base.