Waste Water Heat Recovery
for

Showers
Recoup has designed and produced this Preheat Tape to be used as part of the installation process. The tape is used mark the preheat supply water pipe coming from the waste water heat recovery system and going to the shower mixer tap and/or combi-boiler or cylinder depending upon the
installation
system in place . This process is listed within the
SAP
design checklist and should always be completed.
The tape is wrapped around a section of the preheat water pipe close to a cut off valve or tap
The main text will remain visible on pipes as small as 15mm in diameter
The presence of the tape is to ensure that only a waste water preheat supply is connected to the pipe work.
Specification
Printed vinyl tape
Permanent adhesive
48mm wide
66m on per roll
Supplied in single or multiple roll packs
Recoup preheat tape is available through our main distributors or directly from us. Please contact us for more information or to place an order.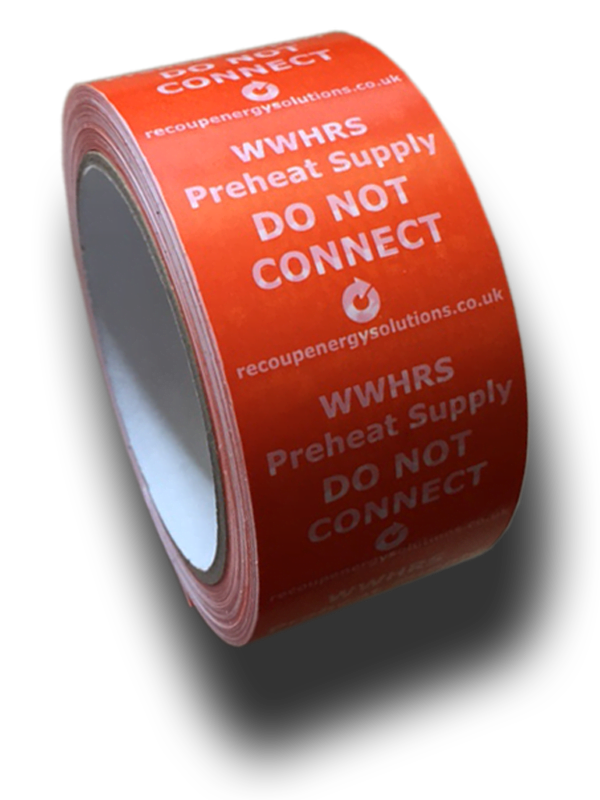 Recoup's Waste Water Heat Recovery System (WWHRS) Brochure and Portfolio to download, save, print or share. Provides background information on WWHRS and why to use it, SAP assessment, SBEM, BREEAM, Passive House, all product options, features, benefits, installation methods and links to additional useful information. Download here...