Waste Water Heat Recovery
for

Showers
Part L 2021 is here, will your new build homes comply?
Part L 2021 is here, the transition period is over, will your New Build homes comply?! The new regulations fully transitioned on Thursday June 15th 2023. Now all new build homes need to achieve a 31% carbon reduction compared to previous targets.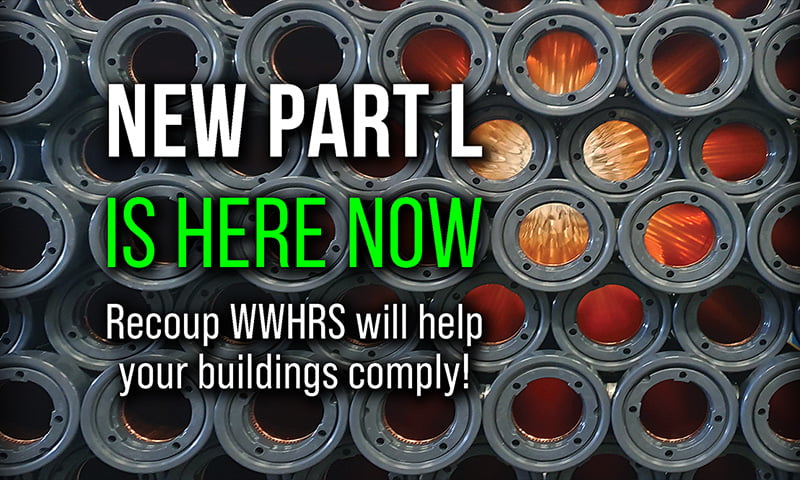 Waste Water Heat Recover for Showers (WWHRS) is on the notional dwelling for the New Part L regulations, the suggested method for compliance. Housebuilders, developers, and specifiers are looking for cost-effective routes to comply. WWHRS is a product that is simple to design in, simple for end-users to understand, and simple to integrate into existing installation and supply chains. Once in use, WWHRS continuously saves energy, money, and carbon for the user from their waste shower water; up to 55% of the energy use per shower!
Why you should choose Recoup WWHRS for your Part L 2021 builds?
Recoup is the only UK company focused solely on WWHRS. Our team has been working hard to ensure we, and our merchant supply partners, are ready to provide the WWHRS products housebuilders will need, actively building stock of the Recoup Pipe HEX and Recoup Easyfit+. Our products, both vertical and horizontal, have leading efficiencies, availability, warrantees, and are backed by unrivalled technical support.
We have been preparing and evolving our installation and fast-response, remote, site-level support for engineers and developers for over 10 years, with lots more to come in the second half of this year! Recoup's continuous goal is to always be on-hand to provide full WWHRS support for every step of the design and installation stages of using this very in-demand technology.
With National & Regional housebuilders, SME builders and Self-builders all facing the same Building Regulation requirements, Recoup will provide technical, design-in, supply, and installation advice and direction for all. Contact our technical team if you would like Recoup to start supporting your WWHRS journey!

The Recoup Knowledge Base is our fully searchable library of information available 24 hours a day. Quickly find answers to common questions or deep-dive full in-depth technical articles, product information and design walk-thrus, as well as, key articles, industry news and a growing list of case studies.
Visit Recoup Knowledge Base.