Waste Water Heat Recovery
for

Showers
Recoup WWHRS Pipe HEX in Barratt Z house project
Barratt Z House is a unique zero carbon concept home that showcases the future of the sustainable living in the UK. It incorporates the Recoup Pipe HEX Waste Water Heat recovery System for Showers along with other products and systems from over 40 suppliers.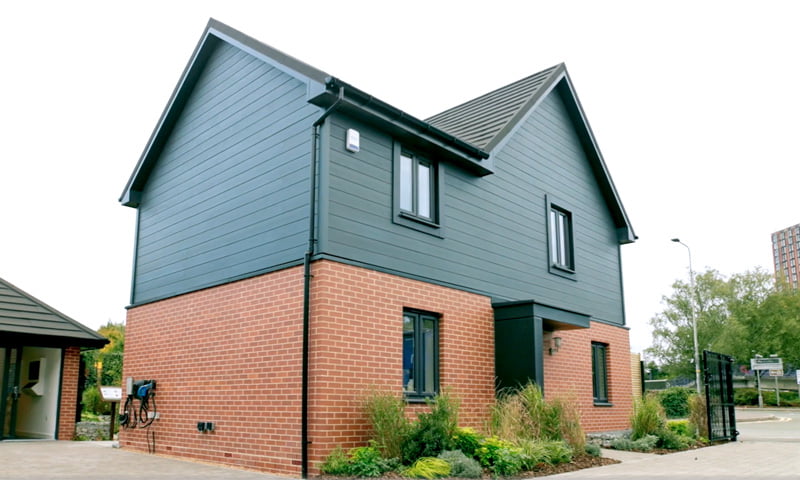 The Pipe HEX Waste Water Heat Recovery System for Showers (WWHRS) is tucked away in the corner boxing in the kitchen. A passive energy-saving product, that is installed within the building fabric, hidden away from sight. It's not flashy; it's not trendy; it just works….and Barratt have been installing Recoup WWHRS since 2013! WWHRS is used by a number of forward-thinking UK housebuilders and is set to have a big part to play in the upcoming Part-L 2021 changes.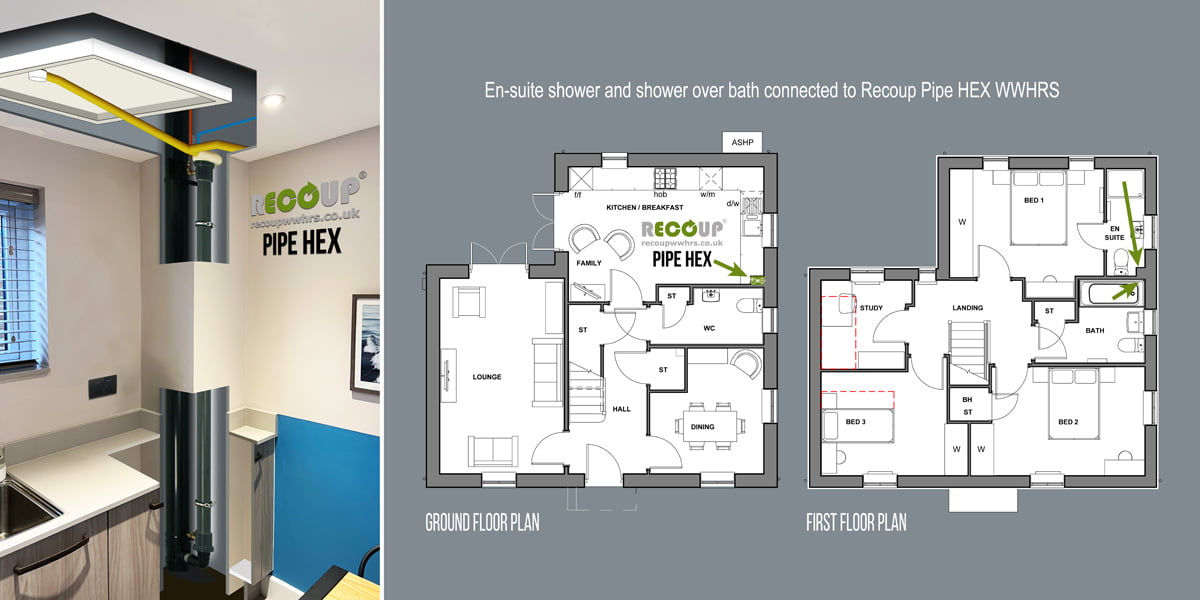 The waste shower water from the upstairs en-suite and bathroom shower runs into the Pipe HEX. The heat exchanger inside recovers heat energy from the waste water and uses it to heat the incoming cold water creating preheated water. This preheated water then feeds the shower mixer and/or the hot water system (which in the Z-house means a single WWHRS pipe is connected to low flow showers & an ASHP cylinder) reducing the hot water required per shower use by around 55%
Built on University of Salford's main campus, Barratt Z House is the first home in the country to be built by a major housebuilder that goes substantially beyond the Future Homes Standard.
The home will test and monitor the most modern sustainable housing technology such as an air source heat pump, infrared panels, plaster that eliminates pollutants, a fridge that keeps food fresh for longer, heated skirting boards, air-powered showers, electric vehicle charging points, PV solar panels and battery storage. Importantly, the home will also be lived in by a university academic to better understand the customer's experience of zero carbon living.
ITV's, Alice Beer also visited and run a piece on the Barratts Z House flagship zero carbon home project and the suppliers involved. See Alice's report here.
Content and image references from Barratt Developments Showcase on the Z House.

The Recoup Knowledge Base is our fully searchable library of information available 24 hours a day. Quickly find answers to common questions or deep-dive full in-depth technical articles, product information and design walk-thrus, as well as, key articles, industry news and a growing list of case studies.
Visit Recoup Knowledge Base.