Waste Water Heat Recovery
for

Showers
Recoup win Barratt Developments plc 'Best New Product' award!
Recoup have been awarded the Barratt Developments plc 'Best New Product award for the Pipe+ HE. Since our first meetings with Barratts Developments plc our business relationship has consistently grown and flourished. Peaking with their selection of the Pipe+ HE as their specified vertical waste water heat recovery system and now further with their best product award.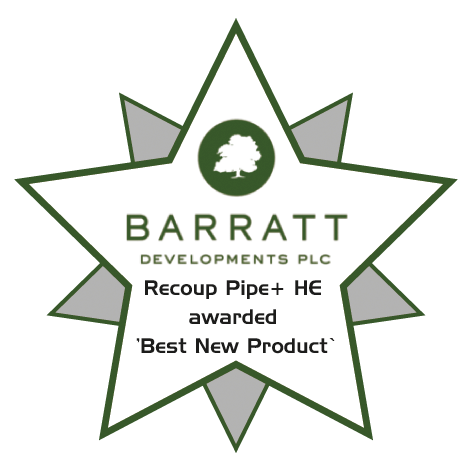 "The Recoup Pipe+HE is by far the most innovative product within our supply chain, also sitting comfortably from a commercial and customer acceptance perspective. The technology sits squarely within our 'fit & forget' ethos which we feel is essential for not just giving CO2 savings in theory, but delivering real benefit in reduced CO2, and reduced bills, for our customers."
We are very pleased and proud to be receiving this award from one of the most well known and highly respected house builders in the UK. We are certain that together our businesses will continue to grow and provide Barratt customers with a high performance, energy saving and award recognised waste water heat recovery system.