Waste Water Heat Recovery
for

Showers
Recoup Pipe+ HE WWHRS installation for Kingdom Initiatives at Devilla, Kincardine, Scotland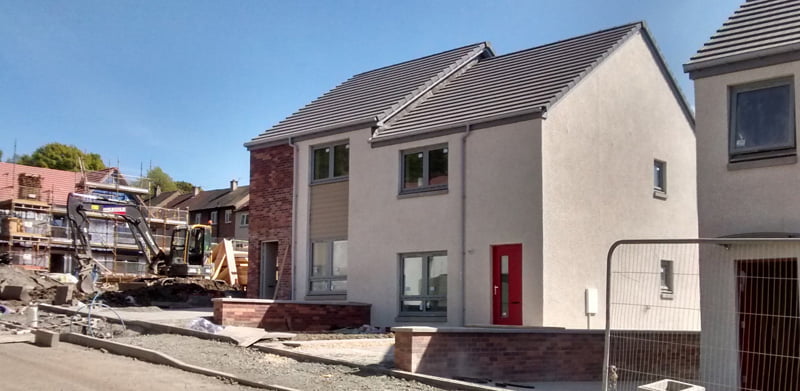 Kingdom Initiatives has recently released the first of its' highly energy efficient new homes for sale in the historic town of Kincardine.
The homes are highly energy efficient with triple glazing throughout; an 'A' rated combi boiler heating system; and Recoups' Award winning Waste Water Heat Recovery for Showers (WWHRS) system: The Recoup Pipe+ HE, installed on 47 of the 49 dwellings.
WWHRS is a simple heat exchanger technology that passively recovers heat energy from waste shower water. When attached to the shower waste pipe, the Recoup Pipe+ HE can recover up to 67% of the energy that would normally flow down the drain every time a shower is used. This can result in significant savings on annual hot water costs for tenants, without any behavioural changes required. What's more, with no moving or mechanical parts, the Pipe+ HE is a true 'fit-and-forget' product requiring no planned maintenance; no end-user interaction; no external energy source; and no specialist installation or commissioning. Just on-demand, passive energy savings with every shower.
Kingdom Initiatives offering a mix of tenures at Devilla including housing for sale from £105,000 per unit, see their website for more info. Of the planned 49 new two- and three-bedroom homes, 47 of these will be available either for sale or for mid-market rent via Kingdom initiatives, with 2 being rented through Kingdom Housing Association. Main contractor Campion Homes, are on schedule to handover a further 2 plots in June; 5 in July; 9 in August; 7 in September; with the final 22 completing the contract in November 2017.
Mechanical Service Contractors, Tom Findlay are proceeding with the plumbing and heating installation, and have currently completed 21off WWHRS installations at the site (supplied by Plumb Center, Falkirk), servicing the shower in the main first-floor bathroom of each property, with the WWHRS unit neatly boxed in next to the soil-stack in each of the properties. The overall energy strategy for the for the project was developed by Glasgow-based energy and sustainability consultants, Carbon Futures.
George McLaughlin, Contracts Manager for Tom Findlay commented that the Recoup Pipe+ HE "is easy to install, and the instructions for use, very easily laid out. Procurement is easy from National suppliers, with Branches local to the area of the project currently working on". He added "The product also benefits from requiring no commissioning and no specific tools which cuts down on costs from a site point of view" and that "the quiet operation of the system will benefit the home owner/ tenant which is another plus point in installing the Recoup system".
Recent funding changes applicable to Scotland's Housing Associations have meant that many more organisations are perusing, and achieving the Section 7: Silver standard. This requires new dwellings to demonstrate reduced Emission Rates by 45% (compared to the 2007 target), by meeting a fabric energy efficiency target and showing at least 5% of the hot water demand is covered by heat recovery or renewable sources, such as WWHRS. Currently, the Scottish Government allows an additional £2,000 grant for those new units reaching the Silver Standard. This assistance, combined with the inclusion of sustainability principles from the outset of the design process means that the Silver Standard can be achieved in a cost-effective and financially sustainable fashion. As such, the demand for WWHRS is rapidly increasing within the Scottish affordable housing sector, which is good news for both tenants and the environment.
Recoup are specified on a number of Scottish new build Housing Association projects, that include specification with Hillcrest Housing Association; Kingdom Housing Association; Campion Homes; Edinburgh City Council.