Waste Water Heat Recovery
for

Showers
BIM World case study feature on Recoup WWHRS and Barratt Developments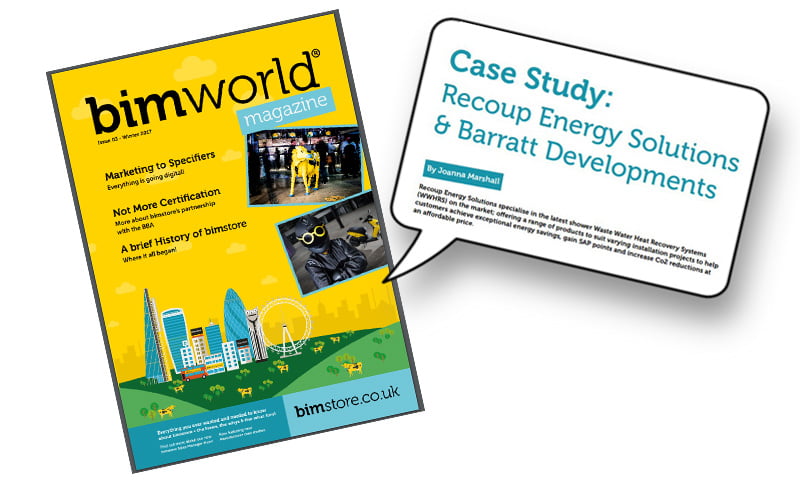 BIM World Case Study: Recoup Energy Solutions & Barratt Developments
By Joanna Marshall
Recoup Energy Solutions specialise in the latest shower Waste Water Heat Recovery Systems (WWHRS) on the market; offering a range of products to suit varying installation projects to help customers achieve exceptional energy savings, gain SAP points and increase CO2 reductions at an affordable price. As well as being specified by some of the largest house builders in the UK and a range of independent developers, Recoup Energy Solutions work closely with housing associations, commercial and leisure projects, SAP assessors, and architects and homeowners to help make savings while also meeting strict building regulations and legislation. With their products designed and manufactured to the highest standards, they offer the best range of WWHRS available in the UK – along with the best prices and highest performance and it goes without saying, we're very pleased to have them on bim store! Available to download is the Recoup Pipe+HE which is their primary WWHRS system and offers great efficiencies to achieve maximum SAP points and ROI. The system boasts up to 67% efficiency and has numerous features and benefits such as a 2015mm long pipe with an installation height of up to 2400mm. It can be linked to a wastewater drain where the shower is over a tray, wet room or bath and the system is virtually maintenance free.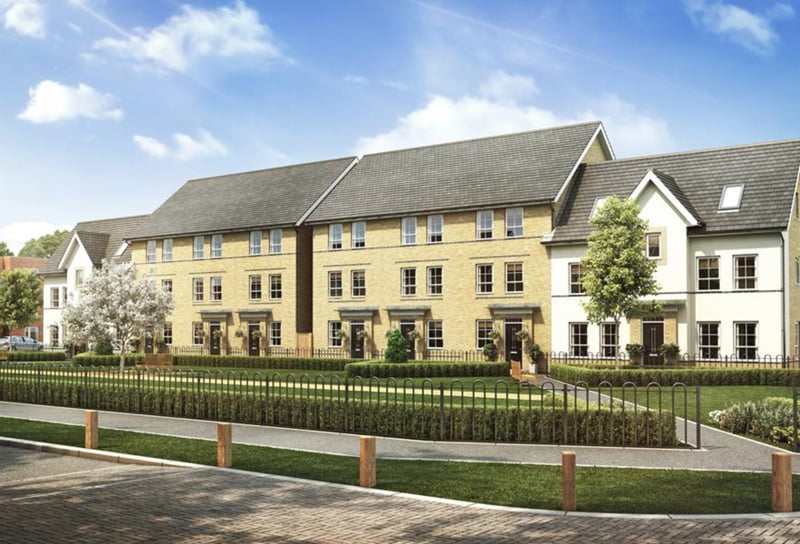 Earlier this year, another bim store customer, Barratt Developments Plc extended its sole-supplier agreement with Recoup for Waste Water Heat Recovery Systems for showers as part of its ongoing plans for building a sustainable future.
"We're very proud to announce that our agreement with Barratt Developments has now been extended by a further two years to 2018," "It's really encouraging, not just for us, but also for our customers, to know that Barratt has chosen to continue our relationship in helping them meet their goal to become the leading National sustainable housebuilder across its divisions over the course of three years, and cement our position as the UK market-leader for WWHRS."
Commented Recoup WWHRS Director Kieron Dudley
Since 2014, Recoup has been a sole supplier of WWHRS to Barratt Developments with its award-winning Pipe+ HE being incorporated into their standard specification for over 50% of  Barratt & David Wilson Homes' 2013 house-types throughout the UK.
"The Recoup Pipe+ HE is by far the most innovative product within our supply chain, also sitting comfortably from a commercial and customer acceptance perspective. The technology sits squarely within our 'fit & forget' ethos which we feel is essential for not just giving CO2 savings in theory, but delivering real benefit in reduced CO2, and reduced bills, for our customers."
Stephen Wooldridge, Sustainability Manager at Barratt Developments Plc
Redrow Homes also confirmed their continued commitment to embedded sustainability values and improving the environment and quality of life for their customers by continuing its supply agreement with Recoup for Waste Water Heat Recovery for Showers (WWHRS) into 2017. This will be Recoups fifth continuous year of supply to Redrow Homes, with the rolling supply agreement originally signed in 2013. This long-term partnership is a testament to Recoup's overall competitive pricing; product efficiency; ease of installation; and service delivery.
The relationship between Recoup Energy Solutions and Barratt Developments started in 2012. Barratt Developments had begun to analyse and identify energy-saving measures to achieve compliance. This was initially directed to Scottish building regulations but also needed to consider the approaching changes for England's Part L regulation in 2013.
Recoup introduced the Pipe+ HE Waste Water Heat Recovery System to Barratt's Technical and Sustainability teams as a potential solution for them to consider. Technical presentations were carried out by Recoup to demonstrate what the Pipe+ HEdoes, how it works and achieves the high efficiencies that it can produce. Following the initial introduction Recoup reviewed all the house types and designs to advise where gains could be made by including the Pipe+ HE. Locations were identified within house type plans to position the Pipe+ HE, considering all waste and water connections required into and from it. Recoup provided this summary along with a spreadsheet showing how various installation methods would gain various Standard Assessment Procedure (SAP) benefits vs commercial considerations.
Recoup then worked with Barratt's SAP partners, Thermal Economics to SAP model the Pipe+ HE within the properties. With this support, Thermal Economics, were able to quickly and easily SAP model the Pipe+ HE in each of the house types from Barratt's portfolio where the Pipe+ HE would provide end-user gains.
Barratt Developments completed this process for a range of other energy saving and building methods including fabric, solar and mechanical ventilation heat recovery (MVHR). Their aim was to find the best products and solutions available to achieve and exceed requirements in the simplest, most durable and cost-effective way. Their analysis considered the SAP modelling calculations, cost, and feasibility across all of the methods to establish the best to use for its solution.
The results of this process showed that wastewater heat recovery was the most cost-effective high-performance solution for Barratt Development's Part L 2013 solution. Now the Recoup Pipe+ HE is a standard solution for over 50% of Barratt and David Wilson house types. This resulted in the Pipe+ HE being awarded the Barratt Development Plc's "Best New Product" of 2013.
Here's why Barratt, Redrow, and other National housebuilders choose Recoup's award-winning Pipe+ HE System:
The best route to cost-effective Part L compliance for 2013 building regulations
Instantaneous heat recovery: up to 67% energy recovery with every shower
Provides an incredible pounds-to-points ratio in SAP
Stocked by National Merchants (inc. Wolseley Group; Travis Perkins Group; SGBG, etc)
Easy to install: no specialist knowledge, tools or commissioning required
No mechanical moving parts; no planned maintenance; no end-user interaction