Waste Water Heat Recovery
for

Showers
Recoup Pipe+ HE chosen again for Gusto Homes' second phase
Located in North Carlton, Lincoln, Phase two of Gusto Homes Woodlands Edge development consists of 6 two-storey passive solar homes set in 12 acres of parkland.With cutting-edge design and a holistic approach to energy efficiency, these eco-homes at Woodlands Edge achieve an EPC band A rating and utilise the Recoup Pipe+ HE WWHRS. A system which effectively recovers wasted heat energy that would otherwise go down the drain as waste shower water.

Domestic hot water to these properties is provided by solar PV (5KW/p) via an ImmerSun intelligent power controller. This diverts 'spare' electrical energy to the electrically heated immersion cylinder throughout the day. The inclusion of WWHRS helps to significantly reduce the DHW load, and therefore any reliance on grid-based power for hot water during the majority of the year.  These Gusto Homes consequently all have A-rated Energy Performance Certificates, resulting in running costs estimated at around £1 per day and a high level of thermal comfort within the property.The properties on The Edge development are designed using a high thermal mass structure that is super-insulated, triple-glazed and virtually airtight. To complement the use of the WWHRS and hot water system; energy consumption is kept to a minimum by a heat recovery ventilation system and the installation of low energy appliances and lighting. The limited amount of energy required to heat each property is produced by economical infrared heating panels.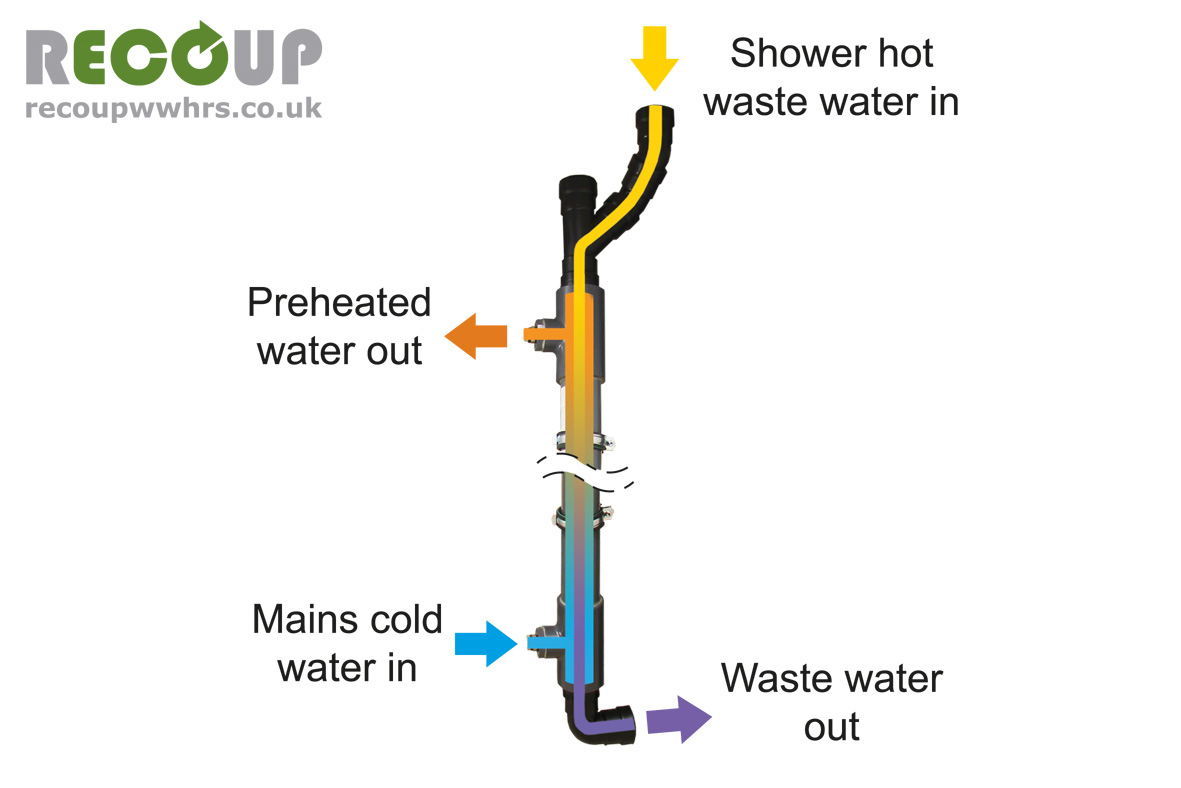 Steff Wright, CEO at Gusto Group said:
"The houses are super insulated and work like a big storage heater, retaining the heat energy and thus keeping energy costs down. One of the key aims of Woodlands Edge is to minimise the energy use to a level where it can all be provided by the electricity & hot water generated via the PV. Recoup WWHRS helps with this as in reduced the hot water load, reducing any potential reliance on grid-based power."
Phase 1 of "the Edge" development which consisted of 18no 3 & 4-bed properties, all with Recoup WWHRS included
, has achieved high recognition: Winner in the 2015 Lincolnshire Energy Awards, and also the Winner in its "Best New Homes" category of the 2016 West Lindsey District Council "Quality in Construction" Awards.