Waste Water Heat Recovery
for

Showers
Recoup Extend Sole-Supplier Agreement with Barratt Developments until 2021.
Following over 5 years of
WWHRS
supply to Barratt Homes and David Wilson Homes. Recoup WWHRS and
Barratt Developments
PLC have signed a further sole-supply agreement until 2021.Barratt has been using Recoups' market-leading Waste Water Heat Recovery Systems (
WWHRS
) for showers, as standard specification in a significant proportion of their 2013 house-type portfolio. As an incredibly cost-effective
SAP-listed
measure, Recoups' flagship
WWHRS
product:
the Pipe+ HE
, is used by Barratt as part of a fabric-first approach to energy efficiency in new dwellings, ultimately allowing for an incredibly cost-effective
Part-L
compliance and proven homeowner energy savings.
WWHRS
ultimately reduces developer build costs, as well as time and hassle on site. For the homeowner, it offers a simple passive energy-saving technology, that can reduce the cost each time they shower by around 55%. What's more
WWHRS
requires no complex installation or commissioning; no ongoing or planned maintenance; no end-user interaction; and has no moving part or filters – Just on-demand, passive energy savings with every shower!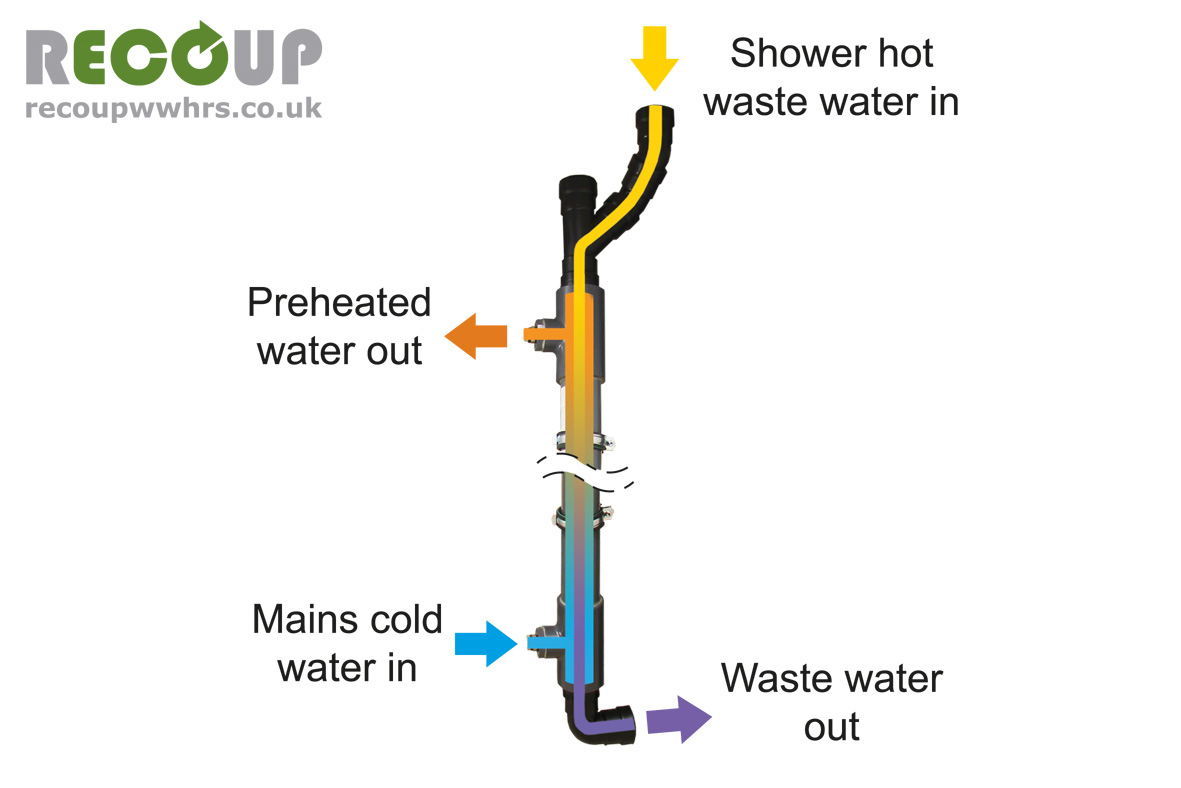 WWHRS
is a heat-exchanger technology that extracts waste heat energy from used shower drain water in order to pre-heat the incoming cold feed. It is a simple solution that offers one of the best 'pound for points' ratios of any
SAP
measure and is a true 'fit and forget' product, and ultimately can recover up to 67% of the energy that goes down the drain each time a shower is used (regardless of heat source).Danielle Michalska-Morris, Group Sustainability & Innovation Manager, Barratt Developments plc commented:
"The Recoup Pipe+ HE system is an innovative product that represents a cost-effective way to achieve both SAP and real-time improvements. The system benefits from being a 'fit and forget' technology that results in tangible savings in both carbon and energy for our customers, without the need for significant levels of occupant education."
If you would like to understand how
WWHRS
can be used to help deliver maximum value and energy efficiency for your next housing development, while helping to create eco-friendly and sustainable homes for your customers, then drop us a line.