Waste Water Heat Recovery
for

Showers
Recoup Easyfit+: WWHRS for new-build apartments, commercial & residential retrofit
The 
Recoup Easyfit+
 is a stand-alone horizontal retrofit WWHRS system designed to passively recover energy from waste shower water and install directly under a standard bath or a walk-in shower tray.Aimed specifically at the residential retrofit, new-build apartment & social housing sectors. The 
Easyfit+
 offers an unrivalled combination of price point, efficiency and ease of installation that has not previously been possible.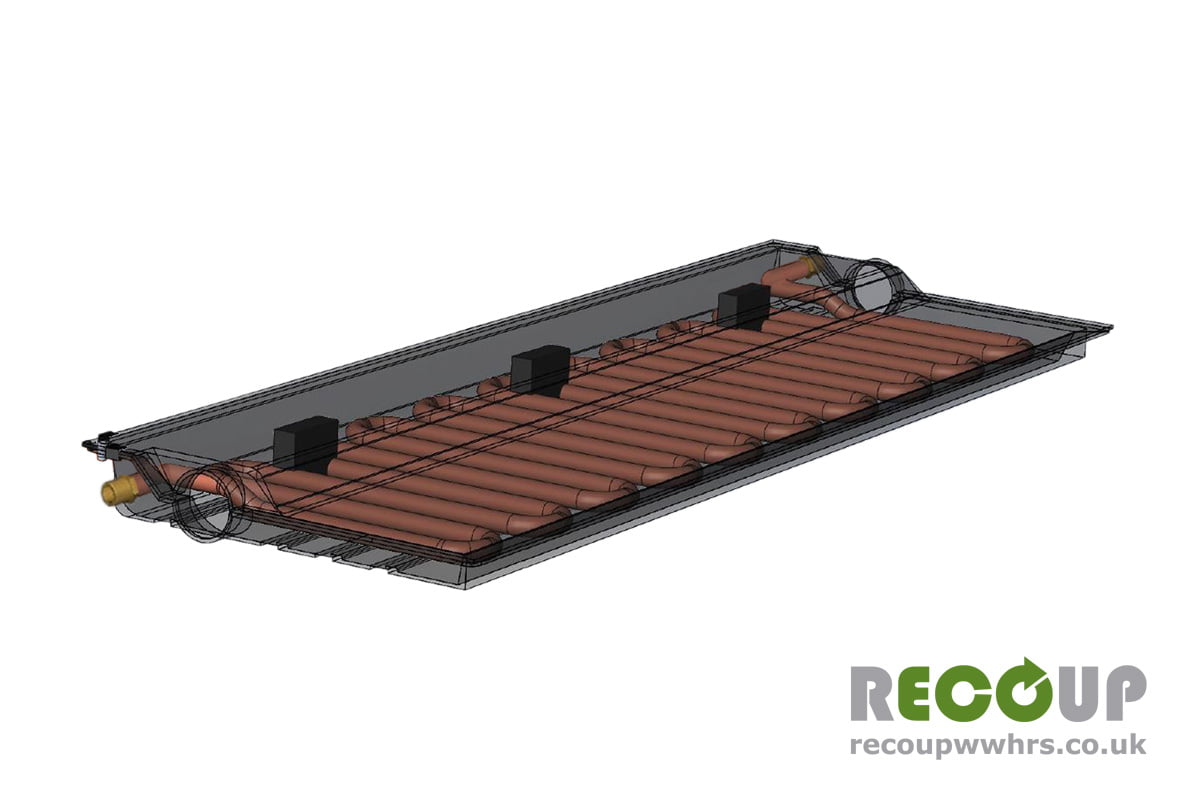 Why is the 
Easyfit+
 is ideal for retrofit, new-build apartments, housing stock upgrades & MEES?
The highest efficiency under-bath WWHRS available: Up to 47% heat recovery.
Unlike vertical WWHRS systems, the Easyfit+ does not need to be installed on the floor below the shower it is attached to.
Low cost per unit – around £400 installed price.
Quick installation (only 1-2 hours) and no specialised training or tools required.
Low profile – only requires 80-85mm clearance.
An average SAP score of 3-7%: Increased EPC.
No planned maintenance & no end-user interaction – Just 'fit & forget'.
This makes it ideal for so many commercial and residential applications, such as:
New-build apartments, flats and mixed residential sites: where SAP compliance may be difficult due to increased local planning regulations; lack of mains gas; or reduced space for more traditional energy efficiency measures.
Residential retrofit: Housing associations and social landlord energy efficiency or bathroom upgrades; Boiler upgrade programmes; MEES; EESSH; & EPC upgrades.
Commercial retrofit: Hotels, YHAs, student accommodation, HMOs and anywhere where this is high shower traffic, can potentially benefit from retrofitting WWHRS.
Click to see the Easyfit+ on the PCDB Database ready for SAP modelling
In the average UK home showering accounts for 50% of the generated hot water cost. However, around 85-90% of this heat energy goes straight down the drain (42% of the total dwelling DHW budget).WWHRS is one of the most cost-effective measures available to both the new-build and retrofit sectors, and focuses on recovering this wasted heat energy and recycling it back into the hot water system for significant end-user savings.
As with 
all WWHRS products
, the 
Easyfit+
 is passive, and offers simple, on-demand energy savings. It has no moving or mechanical parts; has no filters or consumables; requires no electrical or gas connections; can be installed with basic plumbing knowledge and tools; requires no planned maintenance; and no end-user interaction, commissioning or behavioural changes.
<h1 class="reader-article-header__title Sans-42px-black-85%-regular pt6 pb4" style="text-align: center;"><iframe class="center" src="https://www.slideshare.net/slideshow/embed_code/key/4qgvlmwod3k6i0" width="479" height="511" frameborder="0" allowfullscreen="allowfullscreen" data-mce-fragment="1"></iframe></h1><!-- [et_pb_line_break_holder] --><h1 class="reader-article-header__title Sans-42px-black-85%-regular pt6 pb4"></h1>