Waste Water Heat Recovery
for

Showers
Our Success with Barratt Developments continues!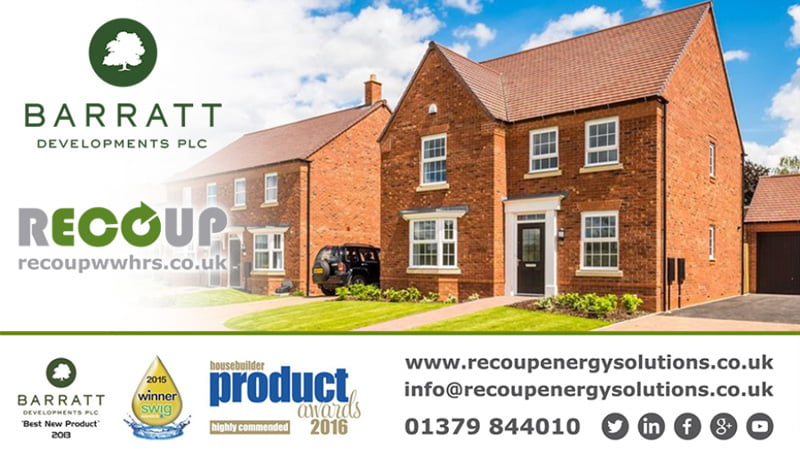 Barratt Developments has extended its sole-supplier agreement with Recoup for Waste Water Heat Recovery systems for Showers (WWHRS) as part of its ongoing plans for building a sustainable future. Since 2014, Recoup has been sole supplier of WWHRS to Barratt Developments with its award-winning Pipe+ HE being incorporated into standard specification for over 50% of Barratt & David Wilson Homes' 2013 house-types throughout the UK. "We're very proud to announce that our agreement with Barratt Developments has now been extended by a further two years to 2018," commented Recoup WWHRS Director Kieron Dudley. "It's really encouraging, not just for us, but also for our customers, to know that Barratt has chosen to continue our relationship in helping them meet their goal to become the leading National sustainable housebuilder across its divisions over the course of three years, and cement our position as the UK market-leader for WWHRS." Here's why Barratt Developments and other National housebuilders choose our award winning Pipe+ HE System:
The best route to cost effective Part L compliance for 2013 building regs
Instantaneous heat recovery: up to 67% energy recovery with every shower
Provides an incredible pounds-to-points ratio in SAP
Stocked by National Merchants (inc. Wolseley Group; Travis Perkins Group; SGBG etc)
Easy to install: no specialist knowledge, tools or commissioning required
No mechanical moving parts; no planned maintenance; no end user interaction
"The Recoup Pipe+ HE is by far the most innovative product within our supply chain, also sitting comfortably from a commercial and customer acceptance perspective. The technology sits squarely within our 'fit & forget' ethos which we feel is essential for not just giving CO2 savings in theory, but delivering real benefit in reduced CO2, and reduced bills, for our customers," said Stephen Wooldridge, Sustainability Manager at Barratt Developments plc. Read more about Recoup WWHRS' relationship with Barratt & David Wilson Homes.