Waste Water Heat Recovery
for

Showers
Future Homes Standard: Part-L 2020 Consultation Document Published.
This week (1 October 2019), the Ministry of Housing, Communities and Local Government published a consultation on the Future Homes Standard, regarding changes to Part L (conservation of fuel and power) of the Building Regulations for new dwellings.
The consultation sets out two options to uplift energy efficiency standards:
Option 1: 'Future Homes Fabric'. Would deliver a 20% reduction in carbon emissions, based on "very high fabric" standards +/- Triple Glazing; a gas boiler; & Waste Water Heat Recovery for Showers (WWHRS), as standard
Option 2: 'Fabric Plus Technology'. Would deliver a 31% carbon emissions reduction based on "very high fabric" standards +/- Double Glazing; a gas boiler (or low carbon heating, preferred); Waste Water Heat Recovery for Showers (WWHRS); and Solar PV, as standard. 
In each of the suggested specifications, Waste Water Heat Recovery for Showers (WWHRS) is included and as part of the Part-L compliance package.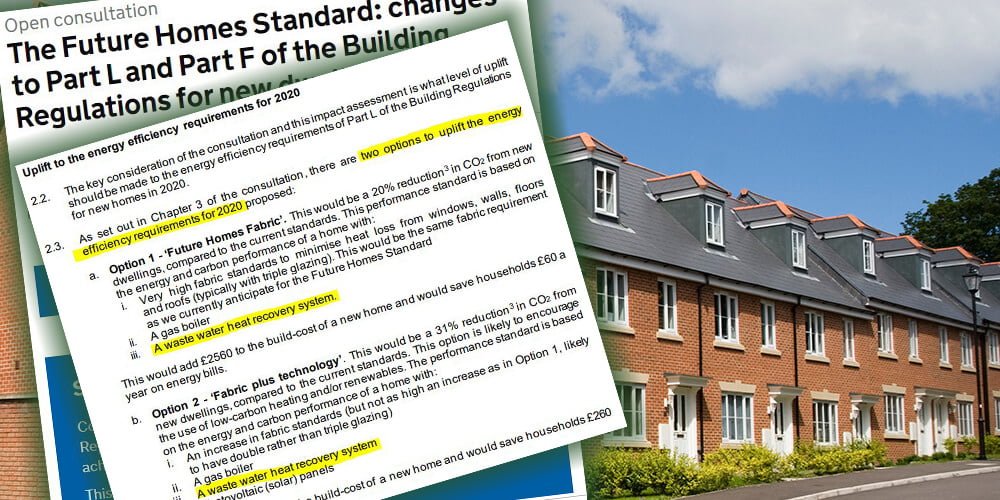 WWHRS is recognised in SAP, and is one of the most cost-effective energy efficiency technologies available. Low cost, easy to install, and a cheaper, more reliable alternative to other technologies such as MVHR, Triple Glazing or Solar PV
Under these proposed Part-L regulations WWHRS is now also considered as part of the Building Fabric with vertical WWHRS, such as the Recoup Pipe+ HE, recognised as having a serviceable lifespan of 60 years.
The proposed Part-L regulations would allow new homes that comply to meet the EU 'Nearly Zero Energy Buildings' (nZEB) standard which comes into force in 2020 (01/11/19 in Ireland). nZEB levels of airtightness and insulation, are expected to result in hot water becoming the primary energy user in new homes, with showers consuming around 50% of this, and aroud 75% for new build apartments..
WWHRS can significantly reduce this primary demand in both new-build houses and apartments.
WWHRS is simple to model and Recoup can support you all the way.
We're happy to look over floor-plans and advise on the most cost-effective and appropriate WWHRS systems for your current or future developments.
As an example of the service & support we can offer, we've produced a developer support guide to download: