Waste Water Heat Recovery
for

Showers
"1st Place Award for Innovation goes to Recoup Easyfit+"
It was a packed night at the recent Norfolk Construction Excellence Award ceremony, hosted at Norwich City Centre's Open Venue.Around 170 of the region's top construction professionals had gathered together for the annual celebration of Constructing Excellence. The 2018 awards, featured a wide variety of categories including: Offsite Construction; SME of the Year; Client of the Year; and (the hotly contested) Innovation.Recoup had submitted our latest product innovation, the
Easyfit+
for the Innovation category – and WE WON!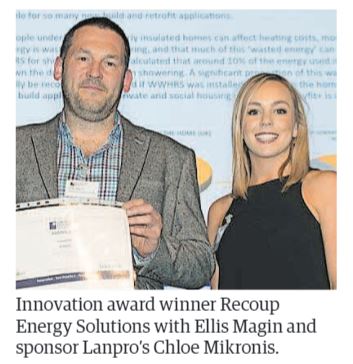 In the words of the Club Chair, Catherine Guelbert-Thick: "This category split the judges and it was neck and neck all the way. However, Recoup (also winners of the innovation and SME categories in 2017) continue to push the envelope and offer a new product that is simple, cost-effective and sustainable. The evidence for energy management and conservation is without doubt".
Read more here:
The Recoup Easyfit+ s the latest in WWHRS technology. A highly efficient horizontal WWHRS system designed to install directly under a standard bath or walk-in shower. This horizontal design allows for WWHRS to be simply and easily designed into new-build apartments or flatted developments, as well as residential retrofit, and commercial applications such as hotels or high-traffic shower areas, such as gyms and leisure clubs.The Easyfit+ is SAP listed, and available to purchase directly from the main UK plumbing merchants and distributors.