Waste Water Heat Recovery
for

Showers
WWHRS available with cashback, via NEW Scottish Energy Efficiency loans scheme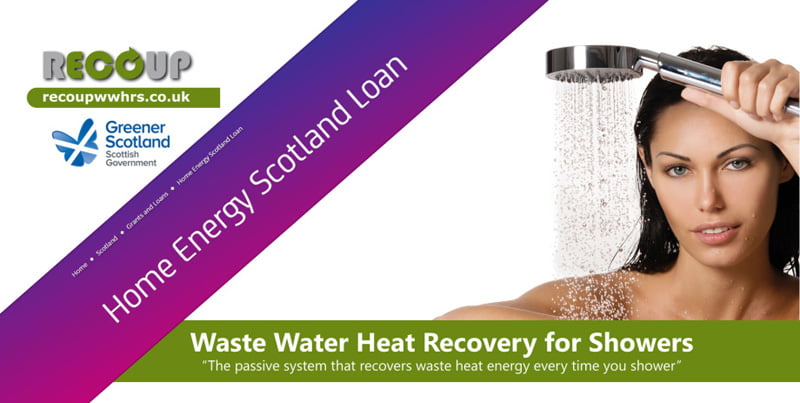 Scottish energy loan scheme, Home Energy Scotland opened on 2 May 2017, and the good news is that Waste Water Heat Recovery systems for Showers (WWHRS) are included in it!
Building on the proven success of WWHRS in the UK Green Deal, owner occupiers and certain registered private sector landlords in Scotland can receive a cashback grant of up to £125 and funding of up to £500 for any WWHRS installations carried out under the scheme. Any product from the Recoup WWHRS portfolio is eligible, meaning retrofitting WWHRS into existing properties has never been easier or most cost-effective.
Total funding up to £32,500 per home is available to owner-occupiers and eligible registered private sector landlords in Scotland for energy efficiency improvements, home renewables systems or connections to an approved district heating scheme powered by a renewable energy source. Gas connection is also part of the measures. WWHRS is available in addition to these primary measures. For a limited time and subject to available funding, applicants can claim a grant of 25% cashback on the cost of their work. It is available on a first come, first served basis subject to availability of funds.
There is more information about the Home Energy Scotland loan scheme, including the eligible energy efficiency measures and loan repayment periods, on the Energy Saving Trust Scotland website at www.energysavingtrust.org.uk.
If you want to apply, or you have any questions about what you can get a loan for, contact Home Energy Scotland on 0808 808 2282. For further information on WWHRS contact Recoup on 01379 844010
The Home Energy Scotland loan scheme has replaced the former HEEPS loan scheme in Scotland.