Waste Water Heat Recovery
for

Showers
Low Carbon Homes, Energy Saving Answers – November Events
Recoup will be joining nine other energy efficiency innovators at a new online event from Low Carbon Homes called Energy Saving Answers, introducing energy efficiency industry professionals to ten proven new ways to revolutionise home energy use.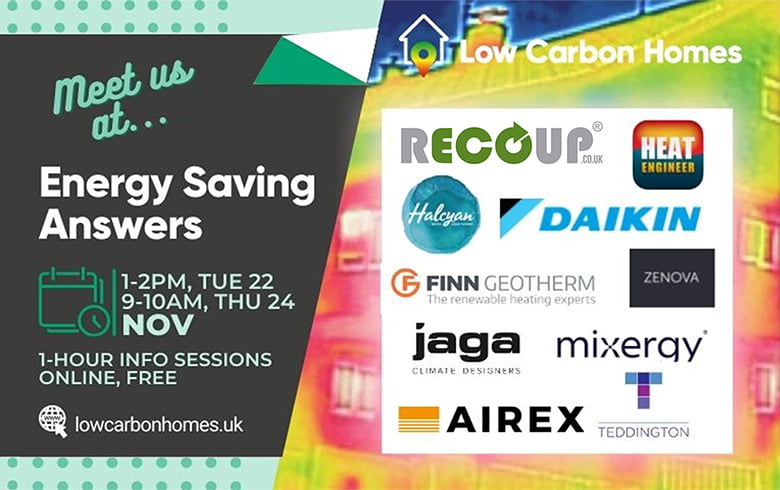 An innovation showcase, Energy Saving Answers will take place live online for an hour on 22nd of November and repeated on 24th of November 2022, providing information and case studies directly from the innovators and manufacturers of solutions for home energy optimisation and building performance improvements that won't break the bank.
Introducing proven technologies that are ready to scale, the sessions provide the opportunity for those on the building energy efficiency and fuel poverty front lines to ask questions directly of the teams behind the innovations and to access fresh approaches to tackling the cost of living, energy and climate crises.

"This whistle-stop tour of some of the most interesting energy efficiency innovations out there will help energy advisers, consultants, specifiers, installers and retrofit designers solve many of the problems we have been wrestling with in driving energy efficiency into the mainstream," says Graham Lock of Low Carbon Homes. "Getting tooled up through information events like this, where you can talk to the inventors and manufacturers directly, will help everyone make better recommendations to their clients and customers."
The full list of organisations and technologies are:
AirEx – Smart ventilation control
Teddington – CombiSave thermostatic control valve
Daikin – Smart heat pumps
Finn Geotherm – Large building heat pump systems
Halcyan – Water conditioner)
Heat Engineer – Heat loss calculation software
Jaga – Heating and cooling radiators
Mixergy – Hot water storage
Recoup – Waste water heat recovery for showers
Zenova IP – Insulating paint
Energy Saving Answers will run at 1-2pm on Tuesday 22 November 2022 and repeated at 9-10am Thursday 24 November 2022.
Register to join us at the inaugural Energy Saving Answers event here.

The Recoup Knowledge Base is our fully searchable library of information available 24 hours a day. Quickly find answers to common questions or deep-dive full in-depth technical articles, product information and design walk-thrus, as well as, key articles, industry news and a growing list of case studies.
Visit Recoup Knowledge Base.